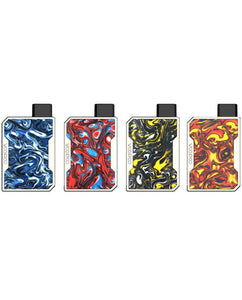 Voopoo Drag Nano 750 mAh pod System Starter Kit
VooPoo presents the Drag Nano, a remastered portable pod variation of the critically acclaimed VooPoo Drag Mod. The Drag Nano is a straight forward device with features such as VooPoo's proprietary GENE.Pod Chip, a quick charge battery, and a 1.8-ohm cartridge that pairs perfectly with salt nicotine. This device shrinks down all of the great features and functions users have come to love in the original Drag without sacrificing flavor. 
The VooPoo Drag Nano offers a compact size perfect for any fan of minimalistic vapes; measuring a mere 54.5mm by 35mm by 11mm. Due to the sleek and minimalistic design, this device has fully removed the on and off switch completely, however, on the side of the VooPoo Drag Nano is a multi-colored LED which shows off three varying colors. The LED lights will correspond with the remaining battery life with green displaying the maximum charge to 60%, blue displaying from 60% to 20%, and lastly red from 20% to 0%. When the device reaches the lowest portion of battery life the LED will flash red 10 times, shutting off the device and prompting the user to charge the battery. Draining this device's battery will be tough, as the battery capacity is a whopping 750mAh integrated battery and features a micro USB with a quick charge function at 0.5A. Meaning, users will get to enjoy a fully charged Drag Nano within an hour of charge time. 
Moving forward, the VooPoo Drag Nano Pod remains sleek and compact while maintaining a comfortable fit within the devices contact port. This system allows the Drag Nano to have a comfortable vaping experience for users overall. Refilling each Pod is a simple task, simply removing the mouthpiece at the top of the pod and fill it up with any nic salt or freebase e-liquid. With a maximum juice capacity of 1 ml and an ohm rating of 1.8 ohms, MTL users will experience a smooth draw in every vape. Each pod is securely connected to the device via a magnetic connection. 
Packed inside the VooPoo Drag Nano is the reinvented GENE.Pod Chip which is at the forefront of vape technology. Featuring five integrated protections including; switch timeout protection, short circuit protection, overcharge protection, over-discharge protection, and output over-current protection. With all of these features packed inside the VooPoo Drag Nano it is sure to be the go-to pod system for novice and experienced users alike. Creating a small and straight forward MTL vape while keeping with the Drag's clean looks, this will quickly become a must-have in any vape collection.