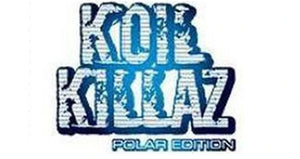 Koil Killaz (Polar) 30ML E-Juice Freebase Nic
The same great Koil Killaz flavours, now with an icy blast. 
AMBUSH - After traveling across a frozen ocean for thousands of miles, two primates find themselves ashore. Their most prized elixir of crisp red and green apples and notes of cranberry have adapted to the elements and stomped with a frozen finish. Beat the summer heat with a flavor that will ambush your taste buds! 

ASSAULT - The prophecy could not have foreseen seen this new chilling creation! The coveted blueberry dragonfruit and guava blend is back with an arctic exhale to ensure you stay frosty all year round.

BLITZ - The great messiah ape has returned from his arctic expeditions - bringing with him a new take on his prized elixer. A watermelon blueberry pear symphony chilled to the bone for a frosted all day vape.

FURY - The gods have beamed down this icy cold magic straight from the heavens. Pineapple juice infused with coconut milk and the zest of black currant frozen to perfection in this angelic like blend.

PRIMATE - The lurking beast has journeyed out of the rainforest and found his way atop a frozen peaked mountain, bringing with him his secret blend of crisp apples, and juicy grapes. The Sasquatch has returned, this time bringing the ice along with him!

R.I.P. - The pack's most coveted blend of lemon, lime, grapefruit, and Guava have been frozen rock solid and doused with a splash of blood orange. The power of the tropics collides with an arctic-like finish for a flavor that kills! 

RAMPAGE - A furious blend of pink guava, ripe mango, and fresh pineapple have been taken into the depths of the Arctic Tundra, and infused with the power of the Arctic! A frozen blend to send your tastebuds into a state of frenzy!

RUMBLE - The fog has cleared and the beast has found himself in front of a snow-covered Cave. Inside, an elixir only heard of in ancient legends. A frozen symphony of secret tropical fruits with an icy exhale, so chillingly good it will drive you mad! 

SAVAGE - The sun has set, and the cold front is here! Enjoy this savage blend of ripe strawberries, juicy watermelon, and sweet delicious kiwi smashed up and frozen to perfection! Stay Frosty!