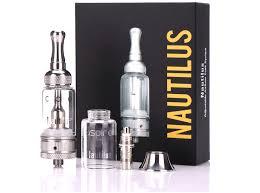 Aspire Nautilus Tank
One of the hottest clearomizer on the market today, with it's patented revolutionary variable airflow system combined with a 5 ml pyrex-glass tank and replaceable bottom vertical coil, which is known to produce more vapor and a noticably better flavor than most clearomizer, theAspire Nautilus is sure to amaze you!
The kit comes with 2 coils (1.8 Ohm), a beauty ring for Ego-threads and the clearomizer itself.
The air flow control allows to control the type of draw you get when you puff, as well as fine tune how much e-Liquid feeds into the coil head.
Specifications :
Stainless Steel Clearomizer body with Pyrex Glass Tank
Working voltage range = 3.3V - 6.0V
Resistance level = 1.8ohms
Tank capacity = 5ml
Size = H2.1cm L8.5cm W2.5cm
Includes = 1x Aspire Nautilus 5ml clearomizer; 1x Beauty Ring for Ego Thread; 1x Replacement Aspire BVC coil ; 1x User Manual; 1x Gift Box